Our System Slides provide a wonderful addition to create more shade and privacy. Choose from either the Rolling Modules with Screen Fabrics or the Sliding Modules with stationary blades. Both options run along an upper and lower guide rail in a fluid manner.
Color: RAL
Electric drive: yes
Manual drive: no
Maximum width: 196-7/8"
Maximum height: 157-1/2"
External use: yes
Internal use: no
Cover: Serge 1% (100) fabric, Serge 600 fabric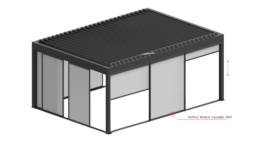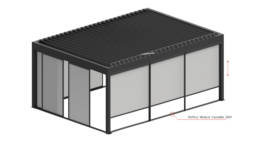 Standard construction colors:
Properties:
• Wind resistance class 6
• Extruded aluminum cassette dedicated for niche and facade installation
• Cassette for under plaster installation made from aluminum sheet, equipped with an extension enabling external plaster application
• ZiiiP mechanism
• Revision from the front of the cassette (under plaster version with revision from the bottom of the cassette)
• Two-piece guide rail with compensating gaskets
• Electric drive
• Self-supporting system
• Construction available in any color from RAL palette (optional)
• Modular brackets available
• System is compatible with Pergola
Have a question or want to learn more about SELT PERGOLA?
Simply enter your information in the fields and we will follow up with you shortly.
Form Download