Specifications:
Powder-coated aluminum profiles

Stainless & galvanized steel components

Roof made of operable aluminum blades

Mobile roof opens electrically

Protects against sun and rain

The angle

 of inclination of blades can be changed

Product design is offered in color from the RAL color chart

The integrated water drainage gutter

Protection against Sun, Rain & Wind

Motors ensure IP 65 ingress protection of the enclosure

Maximum dimensions of a single module: 16' width and 23' projection

Minimum dimensions of a single module: 59" width and 59" projection

Possibility of the modular connection

Optional LED lighting application

Possibility of using weather automation
Take full control of your robust system through a library of color schemes.
Extend the dimensions of your system through modular connections. Our systems are made to link up with one another to create your final vision.
Whether you're looking to enhance your own outdoor living space or increase outdoor seating space at your business, Selt is here to accommodate. Suit your space with our modernized free-standing or wall-mounted system to redefine your area.
Wall-mounted version with beam bracket
Our powder-coated aluminum systems are battle-tested when it comes to industry certifications and standards. Our systems stand strong and are engineered with superior precision.
Beam / Pole cross-section
(Water drainage system)
---
 Pole cross-section
(Water drainage foot)
Each durable system is equipped with a 24v actuator to power the operable blades. Enjoy the sweet muted motor as you open, close, or stop the blades at your desired position with the simple flip of a switch.
Electric motor with switch
(Drive side) with drainage system
(Non-drive side) with drainage system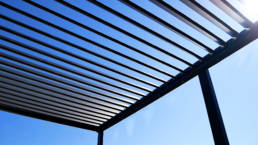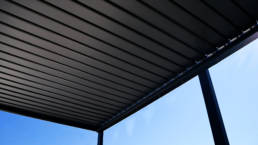 Designed for Pergola SB400 or SB500 as a group of components enabling to install a circuit lighting with LED tapes, inside the contour of the pergola.
Includes: 
240V/24V power supply
control device
remote control
Select from our 3 enclosing options to further enhance your privacy. Each of our three options provides a unique touch to make the system your own. Choose from our electric drive roll down cassettes or track sliding fabric and blade modules.
Looking to learn more information?
Simply fill out and attach the form. We will follow up shortly.
Form Download