Now more than ever, the urge to feel free from the confinement of our homes has become a prominent desire. Since the Covid-19 pandemic is still affecting us well into the end of the year, it may be time to implement a solution.There's no telling where we're headed but a pergola system is an excellent addition given the times.
1.       Weather Control
It's no secret that Mother Nature controls a great deal of our lives. From tropical heat waves to torrential downpour, she always keeps us guessing. No matter where we live, we are constantly checking the weather against our everyday plans. It is almost impossible to guarantee your plans of outdoor activity over the course of a season, but what if you could increase the odds in your favor?
Enter in, the ever-trustworthy electric aluminum pergola. To combat weather conditions and ensure a comfortable outdoor experience, this overhead coverage introduces an experience like never before.
Above all else, a pergola system provides homeowners the leverage to enjoy their lives without the interference of weather. For this reason you have the freedom to entertain and dine as you please no matter the elements. The control is now in your own hands!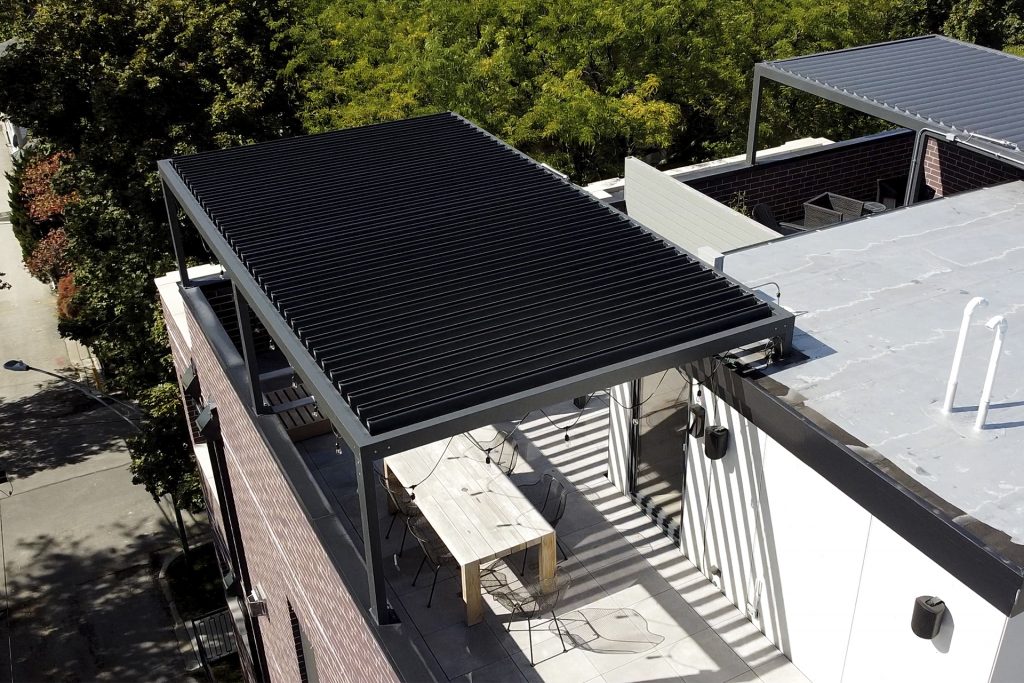 2.       Aesthetic
Each week we speak to dozens of homeowners looking to transform their backyard with a bit more flair and functional aesthetics. Somewhere hidden in their subconscious, the grandeur of an aluminum pergola structure is alluring to them. The concept is visually appealing and creates a unique atmosphere whether occupied or not.
The infrequent construction of pergola systems around us makes the concept all the more desirable and charming. Distinguishable backyard landscapes give your home the character it needs to bring your home design full circle.

3.       Home Value
Simply put, investing in the details of your home increases the overall value. However, not all pergolas can boost home value. For example, cheap vinyl can often crack while pine or timber pergolas will fade in color over time. To get the most out of your pergola investment, we strongly advise choosing a structure made out of aluminum, cedar or redwood, all of which hold their own during long periods of time.
The rarity of pergola systems makes them a distinguishable and appealing asset to prospective home buyers. An outdoor living space has become incredibly desirable over the years and is now a critical component of a home sale. A pergola system will help separate the mundane homes from one another.
Connect with us today to learn more about how our systems align with your vision.